Financial Affairs Management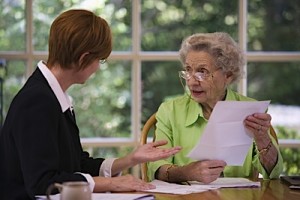 Many older people struggle with daily money management. It becomes overwhelming when junk mail, doctor bills, and Medicare statements start to pile up.
Daily Money Management
We assist with the day-to-day tasks that involve money; from paying the bills, balancing the checkbook to assisting with filing insurance claims. We can also organize financial records and documents for accountant, attorneys, stockbrokers and financial advisors.
Our Daily Money Management and Financial Affairs Services include:
Verify bills and prepare checks
Prepare, arrange and/or deliver bank deposits
Reconcile bank statements
Manage documents and paperwork: what to keep, purge when no longer required, digitize
Review, process and file mail
Organize documents and record keeping
Create and/or maintain process for files and file backup of important documents, secure files
Help establish budgets
Establish and monitor positive cash flow
Compile tax records
Initiate and process all insurance bills and claims
Conduct an annual review of policies requiring payments and ensuring they are current to avoid policy lapse
Arrange and/or act as second or third notification for bill notices
Assist with, monitor and/or pay client services (attorney, estate planner)
Notarize documents